Minto Communities has submitted a Land Use Redesignation application to the City of Calgary to support the future redevelopment of 2501 Richmond.
Redeveloping this site presents an opportunity to deliver enhanced public amenities and housing options currently unavailable in the neighbourhood. Successful placemaking can help ensure economic prosperity, social well-being and a sense of community – all contributing to a vibrant urban environment.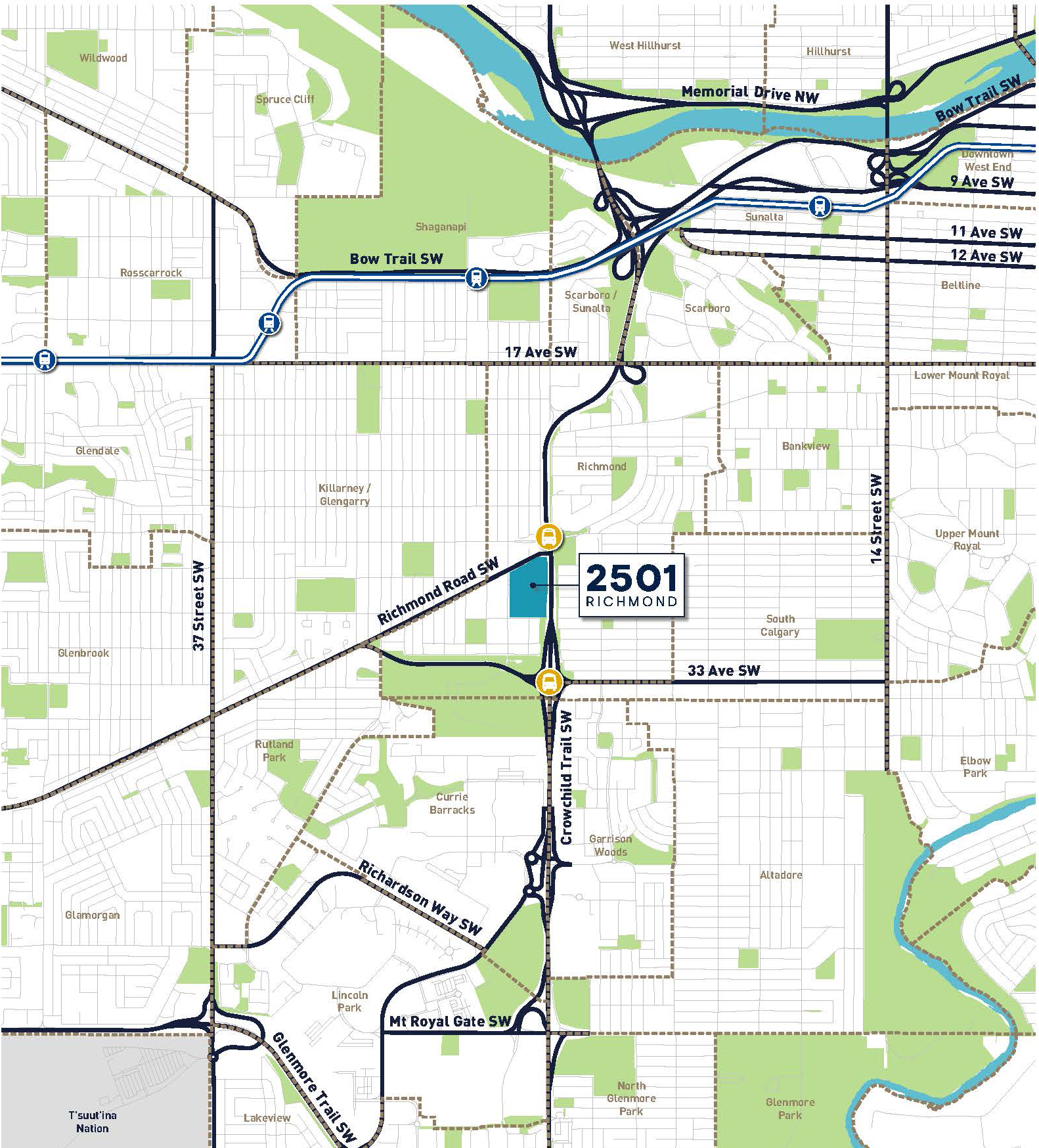 The vision for this site is to incorporate multi-unit residential buildings, with distinctive open green spaces that will connect to the existing community. The proposed plan is based on the belief that diverse and connected places contribute to resilient neighbourhoods. Site design thoughtfully ensures that buildings and spaces in between coalesce into a place of comfort, convenience, usability, and enjoyment. 
Redeveloping 2501 Richmond will contribute to the community and future generations through: 
Safe removal of the school and hazards at the site

 

Open spaces for gathering, playing and relaxing

 

Enhanced walking and cycling pathways

 

Improvements to roads and intersections

 

Thoughtful streetscape design

 

Provide a variety of housing options for the community

 

 
The Viscount Bennett site is located on the 2500 block of Richmond Rd SW, in the community of Richmond. The school was built in the 1950s. The site is amenity-rich and well-connected, 10 minutes to downtown Calgary and less than five minutes to the Marda Loop high street shopping district. The project area is steps from the Bus Rapid Transit (BRT) stop on Crowchild Trail and a primary bike pathway.
Adjacent Context:
Residential streets define the south and west edges with existing detached homes. Across from the existing building on the north end are a combination of single-level, small-format commercial and a mid-rise, mixed-use building. The east edge has a regional pathway immediately bordering Crowchild Trail. The draft Westbrook LAP calls for the west streetscape to redevelop as low-scale multi-residential buildings up to four storeys. A new five-storey building is already under construction immediately north of the site.
Minto is committed to creating a thoughtful vision for the site, consulting with the community and sharing information about our plans as they develop. Please reach out to our project team with questions or comments. 
Register now to receive the latest updates, special offers, and exclusive information about our community.
By filling out this form and pressing submit, you are giving express consent to receive communications from Minto Communities Inc. You may unsubscribe anytime. 
If you have any questions related to Minto's privacy policy and use of commercial electronic messages, please contact Minto Communities Inc. at 200-180 Kent Street, Ottawa, ON K1P 0B6 or 1-877-751-2852.
Click here for access to our privacy statement.
Frequently Asked Questions